Johnstown People's Park,
c/o Fisher Property Management
Unit 13B, Main Street,
Ongar Village,
Dublin 15
Ph: 01-6402748
Email: info@fisherproperty.ie
Or complete the form below and click "submit":
All signed up to your monthly payments?? – Contact us for your paid window sticker. Show the community you are participating to make a better community. Stand out!!
Phone, text, email or write to us and we will get the paid sticker to you!!
(Put one on the car too)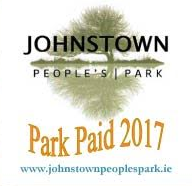 Downloads
Documents and forms right here for your convenience. Download or print.
Finances:
Brochures:
Brochure (March 2017)
Brochure (March 2016)
Brochure (June 2015)
Brochure (Jan 2015)